San Diego Geological Society, Inc.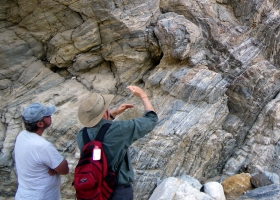 Mission Statement
The San Diego Geological Society provides educational opportunities for professional geologists and the general public on San Diego regional geology and related earth sciences. The San Diego Geological Society is a single source for bridging services to the greater community.
Vision Statement
San Diego Geological Society maintains connections to the academic, professional, and general community to keep these communities aware of trends in the earth sciences.
Statement of Values
The San Diego Geological Society recognizes the importance of geology and related fields. The United Nations declared geology "most important" to solving environmental problems. The United Nations Economic and Social Commission for Asia and the Pacific (UNESCAP) concluded that, in most cases, geology "...is the most important requirement to solving the problem...."
UNESCAP attributes the remarkable success of geo-scientists in solving even the most "perplexing issues" of human health, safety and the environment to their ability as professionals "...to think in terms of long time intervals, to visualize changes in the environment that are a result of natural or anthropogenic processes and to put all of this into a three-dimensional and time perspective. No other professional scientist or engineer has been trained to do that...."
Clients-Public and private entities including research institutions, governmental agencies, schools, universities and colleges, and professional organizations.
Services-Field trips, public lectures, field trip guidebooks, maps, and professional expertise.
Mission-The

San Diego Geological Society

supports education and encourages research in the various earth sciences fields. Founded in 2008,

San Diego Geological Society

establishes as its core value, raising the level of awareness of geology in the greater San Diego region to professionals, students, and the general public.
If you would like additional information on San Diego Geological Society and our services including opportunities for volunteering or to make a donation, please contact us directly.